For decades now, Serbian market has been plagued with increasing unemployment, low purchasing power of working people and their constant over-indebtedness. This is why consolidation loans always have been an extremely popular product.
The offer of consolidation loans is also constantly on the rise, in line with the demand. Each of the 30 banks operating on the Serbian market had offered this type of loan. As the overall economic situation dictates loan terms, products were more or less the same in all banks, in terms of repayment periods, interest rates, additional collateral.
Our client was a bank which was ranked very low on the preference scale, based on profit and loss, and overall reputation capital. Therefore, no rational slogan could be set as the building block on which a sales improvement strategy could be built.
By researching and analysing each individual offer from the competition, and cross-referencing the offered benefits with the psychosocial profile of the target group representative, we detected a potential USP. We moved the unique selling proposition from the domain of the rational and reduced it completely to the emotional level.
As part of required collateral for consolidation loans, our client did not insist on borrowers providing a guarantor who would secure the funds our client lent to its borrowers, and who would automatically be considered the debtor, should the borrower default on their payments.
We additionally researched the significance of this potential USP.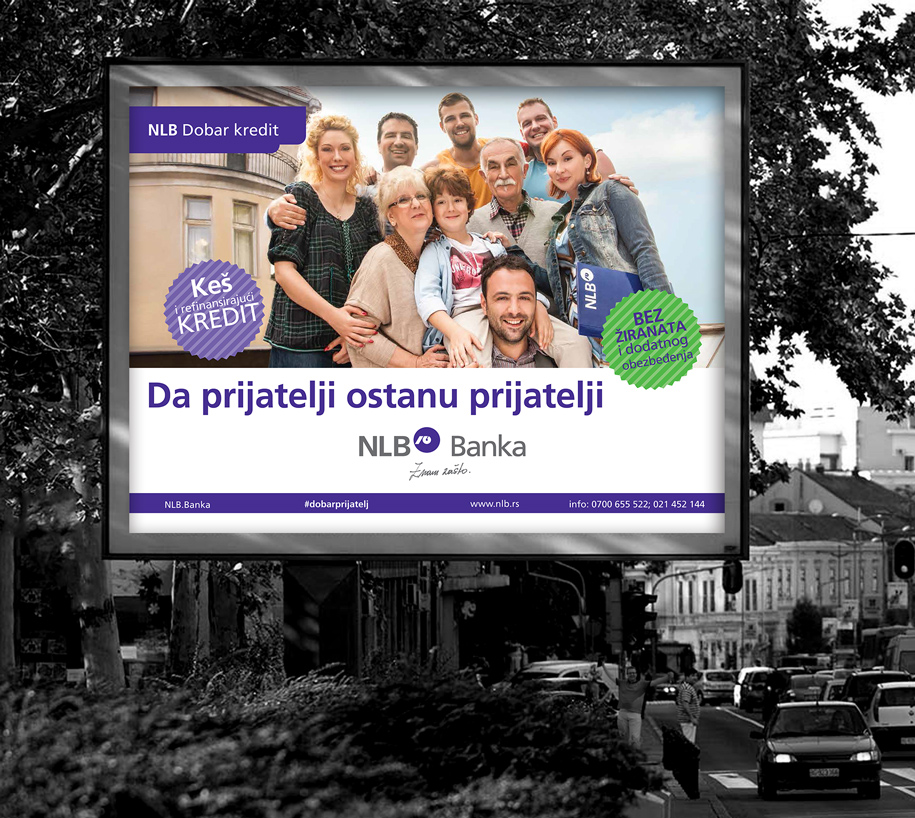 The target group representative was an employed man, between the ages of 25 and 45, member of lower middle class, who lives in a family household with two underaged children and an unemployed wife. He does not have a settled housing situation and he is burdened with active loans. In situations where a guarantor is a mandatory collateral for getting a loan, he would have close friends and relatives as his only option.
One determined social characteristic of the target group representative, that stood out, was that he was closely connected to his relatives and friends. He perceives his family members as his best friends, and his friends as family members. Even though there is high-level of understanding and mutual trust, by putting people he cares about in situations that he cannot completely control, the closeness turns into dependence, which puts him in a state of emotional disbalance.
Based on conclusions drawn, we defined a communications strategy for the sale of consolidation loans without guarantors, built on slogan SO FRIENDS CAN REMAIN FRIENDS.
We provided him with the opportunity to avoid social interactions that, in such situations, inevitably include an emotional exchange that creates an unpleasant feeling. We offered him the chance to avoid having to prove his own emotional competence in his closest social environment he cares about the most, which is family and friends.
By implementing a defined communications strategy, we achieved an 80% increase in sales. And what is even more important, FRIENDS REMAINED FRIENDS.